Looking for a roof that will last long and you won't ever have to replace?. Consider a metal roof. Asides adding a beautiful and striking major design, it is maintenance-free. The practical advantages of a metal roof are that it makes your home safer in harsh weather. Aesthetically, a metal roof is versatile in design to complement many architectural styles.
They are very durable in cold weather and are 100% recyclable. Metal roofing can also be applied over an existing roof. Another attribute of metal roofing is that, "it lends itself well to rain water harvesting. With its smooth clean surface, less filtering is required of water from a metal roof, compared to asphalt shingles which shed small particles, and possibly other chemicals."
Regarding the aesthetics, the metal roof has a distinctive and authentic look. The silvery galvanized color adds a fresh, timeless yet contemporary character to its composition. Although more expensive than an asphalt shingled roof, a metal roof is much more energy efficient than an asphalt roof. It can decrease your energy costs significantly, especially if you live in a hot climate.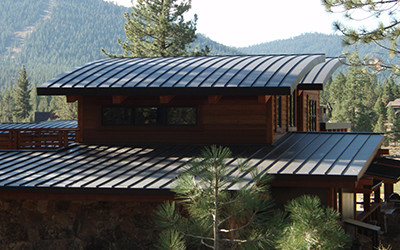 culled from Houzz